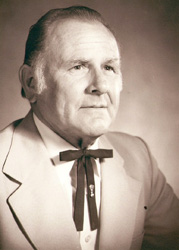 The Edwards Family Charitable Foundation's Mission:
To enhance, through donations, the quality of life, primarily within - but not limited to - Nova Scotia based causes that focus on the well-being of individuals with a special emphasis on children, the community, education, medicine, the arts, as well as innovative projects that promote social responsiveness.
A Statement from the Edwards Family:
We are grateful to our family, friends and business associates for creating and then refining the Edwards Family Charitable Foundation, thereby allowing us to fulfill a dream of giving back within a structured format to the communities which contributed so much to our success and wellbeing. Being able to give through the Foundation has always been a great source of pride for Delia and me as well as our family.

Our success is due to the loyalty of customers, the dedication and hard work of employees, the diligence of mangers, the support of business partners and the love of family and friends. For this reason, we have always felt a special responsibility to share our success and the Foundation affords us the privilege of doing so.
Sincerely,
Ernest B. Edwards
1917 – 2008
Sharing our Success and Giving Back, what has been said

"The Edwards Family Charitable Foundation, through the Paul N. Edwards Memorial Bursary, is providing strength for a learning environment that actively supports women and men of all ages."
Mount Saint Vincent University
www.msvu.ca


"The Edwards Family Charitable Foundation's support has made a tremendous impact in our ability to continue offering sport, recreation and competitive opportunities to persons with a mental handicap."
Nova Scotia Special Olympics Society
www.sons.ca

"The support of the Edwards Family Charitable Foundation has been both instrumental and fundamental to our success and even to our very survival. Without the Foundation's support, there would not have been an Ernie and Delia Edwards House!"
Regional Independent Students Association
(operating the Edwards House and Brockwell House)

"FEED NOVA SCOTIA is so grateful for the support of The Edwards Family Charitable Foundation in working with us to ensure that disadvantaged children and their families have access to nutritious food in times of financial hardship. Research has shown the negative effects of child hunger can linger for a lifetime. Our partnership with this Foundation is playing a crucial role in building a brighter future for child at risk in Nova Scotia."
Feed Nova Scotia
www.feednovascotia.ca

"The support provided The Edwards Family Charitable Foundation has allowed us to continue and expand upon our music therapy program. Through the Foundation's generosity for our music therapy program, the children with special needs within our integrated program have been able to grow and develop in ways that are truly magical. Thank you Trustees for being a part of the lives of our little miracles."
Wee Care Development Center
www.weecareforkids.ca

"Our strength as an agency is directly related to those who believe in the potential of all young men and women, regardless of their life circumstances. Your commitment to making a contribution to the Phoenix Youth Program helps to reinforce that we are not alone in this important responsibility."
Phoenix Youth Programs
www.phoenixyouth.ca


"The Edwards Family Charitable Foundation was an early supporter of the Sound Start Newborn Hearing Screening Program. The program helps the Nova Scotia Hearing and Speech Centre provide early identification and intervention for infants born with hearing loss. We received not only a financial gift but a gift of warmth and friendship that is immeasurable. Thank You."
The Nova Scotia Hearing and Speech Foundation
www.hearingandspeech.ca


Through generous support of The Edwards Family Charitable Foundation, The Salvation Army Scotian Glen Camp can continue to make a difference in the lives of disadvantaged children. The Foundation has enabled us to provide a safe and enriching experience for our campers that is filled with unconditional acceptance and caring. Together, we are working to fundamentally change a child's direction and provide hope for a brighter future.
The Salvation Army Scotia Glen Camp
http://www.salvationarmy.ca/maritime/camp/